While we have been busy at home trying to stay productive and safe, the environment has been experiencing some positive changes. A recently released COVID-19 Air Quality Report shows that air pollution has hit record lows in some of the more notoriously polluted cities in the world. The report states that the environment got a boost from COVID-19 as air pollution levels dropped by as much as 60%.
The Environment Got a Boost from COVID-19
Experts tested and analyzed fine particle pollution (PM2.5) in 10 major global cities. Results from a 3-week period during lock down conditions were compared to those from 2017, 2018, and 2019.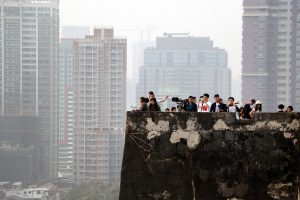 It was important to use the same time period across different years so as not to skew results with changing weather patterns in different seasons. Seven governmental agencies recorded hourly fine particle pollution readings to compare to the readings from previous years. The most dramatic drops occurred in cities with historically high levels.
Delhi experienced the greatest decrease in PM2.5 readings with 60%, their best air quality on record, while Seoul saw a 54% decrease.
China has always been one of the most notoriously polluted countries, but Wuhan saw a surprising 44% reduction in measured pollution.
Los Angeles saw its longest period of clean air to date; New York City saw a 25% pollution drop.
IQAir CEO Frank Hammes says that, believe it or not, the coronavirus pandemic has had a positive impact on the way we live. As people stay in their homes and businesses are on hiatus, we are "witnessing how much of air pollution comes from human activity." Celebrate Earth Day's 50th anniversary all month long by doing your homework to find out how you are positively and negatively impacting the environment. Anyone who wants to make a difference while they are stuck at home is advised to research air pollution and how much of an impact it has on our health and longevity. Many will be surprised to find how greatly it impacts the health of the earth.
Make a Change
Closing down schools, restaurants and bars, and banning social gatherings limited so many things that people to do unknowingly pollute the earth. Air pollution levels have dropped due to less drivers on the road and businesses limiting their hours and not using as many resources. Imagine how low pollution levels would be if factories did not have to stay open during quarantine. If we could accomplish more from home, and factories could find more environmentally-friendly means to produce, air pollution would be more manageable. This year's Earth Day theme is climate action, and if one good thing that came from this epidemic it's that we have learned we can live our lives without putting out so much pollution. Find out what you can do in your community to make a difference in the environment, climate action should extend past quarantine!
Agent Materials
Agents, at Empower we value your success. Give us a call if you have any questions 888-539-1633.
Quick Links:
• Contracting Portal
• Check out Events
• Get Customized Marketing Materials