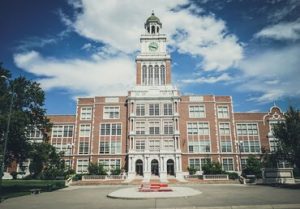 A big announcement came recently as the CDC reduced distance in schools around the country from six to three feet, allowing for more in-person learning flexibility. These new guidelines, of course, are dependent on everyone wearing masks and using other health and safety protocols set out by the CDC during the pandemic.
At times when masks are not going to be worn, such as when eating lunch, the CDC still recommends six feet of distance between students. For sporting events, assemblies, and other school gatherings, the CDC still recommends six feet of distance. The updated guidance is designed to give schools more options, according to California Health and Human Services' Dr. Naomi Bardach. The hope is that the new guidance will be able to shift more schools to in-person learning on a full-time basis.
According to a study published in the Clinical Infectious Diseases journal found there was not a difference in COVID-19 positivity rates between schools in the state of Massachusetts that allowed three feet of distance between students as opposed to six. The official changing of the guidelines by the CDC likely means that more schools will begin a transition to more in-person learning. If not this school year, then certainly next year the vast majority of schools in the United States will be able to go back to school for good. With a summer to plan for the new accommodations, schools will have a much easier transition back to the classroom.
"We don't really have the evidence that 6 feet is required in order to maintain low spread," CDC community interventions task force leader Greta Massetti said. "Also, younger children are less likely to get seriously ill from the coronavirus and don't seem to spread it as much as adults do, and "that allows us that confidence that that 3 feet of physical distance is safe."
The new guidelines will not only impact primary education, but secondary education including colleges and universities as well, some of whom have been in an online only learning mode since the pandemic began in March of 2020.
Agents
We hope this information on CDC Reduces Distance in Schools is helpful to you.
Empower Brokerage is dedicated to helping you educate your clients on the insurance they need and staying on top of their health. Whether it's through webinar training, one-on-one calls, seminars, or marketing plans. We want you to be successful. Give us a call if you have any questions 888-539-1633.
Quick Links:
• Get Customized Marketing Materials
Jeffrey is a graduate from the University of North Texas and joined the Empower Brokerage marketing team in 2020. He is the social media manager for empower brokerage, in addition to writing blogs and doing various campaigns. LinkedIn profile