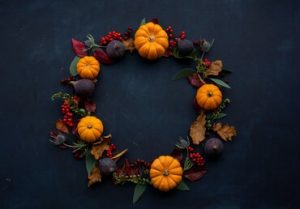 With coronavirus cases on the rise throughout the country, here are some of the Thanksgiving recommendations from the CDC.
The CDC implores people to consider how their holiday plans can be altered to help reduce the spread of COVID-19 to keep everyone as safe as they can. As stated at the beginning of their guidelines, the recommendations add to local restrictions already in place, they do not replace them.
The CDC starts its recommendations by saying that virtual celebrations or in-person with household members only are the best way to celebrate Thanksgiving this year. A household, as defined by the CDC, is anyone who lives and shares common spaces in your housing unit. People who currently don't live in that unit, such as children away at college or boarding school, are not considered part of the family unit. Take into consideration the number of cases in the area when planning to gather, especially when determining who and how many people will be at a Thanksgiving dinner.
Outside Is Best
If possible, meeting outside is safer than inside when it comes to slowing the spread of the virus. That is due to the ventilation or lack thereof with inside spaces. The CDC says to encourage guests to bring food and drinks for themselves and to avoid potluck-style gatherings common for Thanksgiving dinners.
Not just Thanksgiving, but all holiday celebrations for the foreseeable future might look different from what they used to be pre-pandemic. Until a vaccine is readily available to the public, ensuring safe gatherings, the CDC will recommend safe social distancing measures. While it may be an annoyance to not meet as usual for Thanksgiving, it could be for the betterment of everyone if people who are at risk stay home and avoid contact with others.
Canadian Thanksgiving was a COVID-19 spreading event, and the United States is hoping to avoid the same result.
Stay safe this holiday season, and make sure you do what is best for your family to keep them safe.
Agents
We hope this information on Thanksgiving recommendations from the CDC is helpful to you.
Empower Brokerage is dedicated to helping you educate your clients on the insurance they need and staying on top of their health. Whether it's through webinar training, one-on-one calls, seminars, or marketing plans. We want you to be successful. Give us a call if you have any questions 888-539-1633.
Quick Links:
• Get Customized Marketing Materials
Jeffrey is a graduate from the University of North Texas and joined the Empower Brokerage marketing team in 2020. He is the social media manager for empower brokerage, in addition to writing blogs and doing various campaigns. LinkedIn profile